SleepAngel Barrier Bedding is clinically proven to block pathogens*, allergens, microbes and mould. It is the world's first barrier bedding to combine absolute barrier protection with airflow for user comfort. Healthcare innovation adapted with comfort features to fit hospitality industry needs.
Getting a good night's sleep is the best thing you can do to improve your physical and mental health. Filtered bedding by SleepAngel supports your guest's recovery with a comfortable sleeping environment and clean air when they need it the most.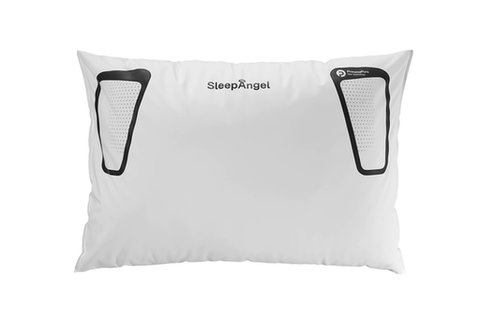 Filtered bedding for safer guest experience
Soft surface (pillows, duvets, mattresses, etc) is the often-overlooked link in the chain of cross-infection. Allergens and bed bugs, but also superbugs, viruses, mould and pathogens, enter traditional bedding products through porous covers, stitching holes and zips. It acts as a reservoir, but also exposes each new bedding user to whatever previous users have left behind. Just changing the covers is not enough, very often even washing the bedding is not enough.
"We protect ourselves and others from viruses by wearing a mask and washing our hands. Soft surfaces (e.g. pillows, duvets) also "breathe", therefore need similar protection and care," says SleepAngel OÜ CEO and founder Sven Jürisoo

SleepAngel bedding comes with a build in "mask" a nano-porous filter, that together with Safeweld seams and PureShield fabric protection secures that it is a barrier for allergens, pathogens, mould and also liquids:
durable, soft touch and high performance textile
welded seams instead of stitching holes
a built in "mask", a nano porous PneumaPure filter, that allows only pure air to enter the bedding.
Safe, sustainable and supporting
Unique fabric and filter technology, originally created to stop cross-infection in healthcare, combines sustainability and safety with user comfort:
Reduced cleaning costs as the bedding does not require machine wash or dry cleaning, it is enough to wipe the bedding clean, change covers and you are ready for your next guests.
Smaller environmental footprint due to no machine wash, transport or extra stock. Bedding becomes a long term investment as furniture
Prolonged utilisation time as the bedding keeps shape longer
From core to cover, we use the best available materials to create the best environment for your employees and guests.
PneumaPure filtered bedding provides relief for people with allergies and asthma, is the choice of elite athletes to reduce risks during recovery, suitable for anyone focusing on rest and recovery in a clean environment.
Wide bedding range for clinically clean comfort
SleepAngel bedding range includes pillows, duvets, mattresses and toppers, soft surfaces for intimate bedding environment. Patent proctected and clinically proven technology is already used in healthcare and hospitality around the world.
Introduction by SleepAngel founder and CEO Sven Jürisso
Quick explanation of our technology