- ECONOMIC IMPACT -
Latest update: 19 January
According to China's General Administration of Customs, the country's trade surplus rose to $676bn in 2021, the highest since records began.
Goldman Sachs estimates that the Chinese economy will grow by 4.3% in 2022, which is a downward revision from its previous estimate of 4.8%.
According to the ONS, the UK's economy grew by 0.9% in November 2021, surpassing its pre-pandemic level GDP.
According to the World Bank, the real GDP growth rate of the Indian economy is forecast at 8.3% in FY22 and 8.7% in FY23.
- SECTOR IMPACT: Travel and tourism -
Latest update: 2 February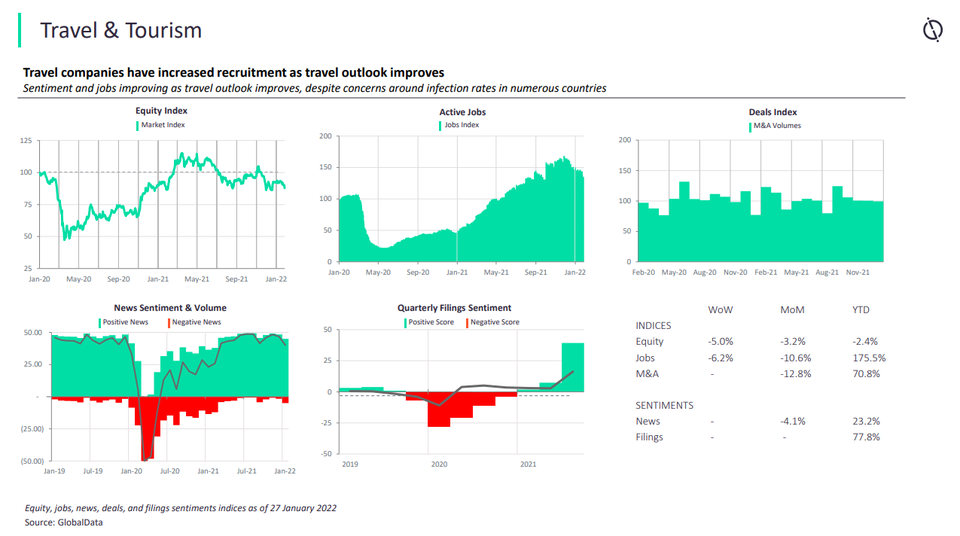 International travel impact
Expedia Group increased its Q3 2021 sales and marketing spend by 150% YoY, to a staggering $1.3bn.
According to GlobalData, total global hotel revenue in 2021 was projected to be at 63% of 2019 levels.
There is uncertainty over the length of travel restrictions, and the indication is that measures will be in place even when travel fully opens back up.
Intermediaries are seen by many as a necessary aid when booking, so demand will return. Direct bookings with providers could increase due to the flexible cancellation policies offered.
Key travel and tourism market developments