Ockwells – Suppliers of Temporary Protection Materials to the Marine Industry
The MSC Meraviglia is the first of a new fleet of high-tech ships MSC Cruises is launching over the next decade. Frances Marcellin went on board to speak to the team behind the ship's cutting-edge technology
ith over twenty years of experience, Ockwells are leading suppliers of specialist quality flame retardant temporary protection materials to the maritime and construction industries.
Our dedicated marine team have the knowledge and experience to advise and assist clients, helping them meet the rigorous demands required of the specialist protection materials use in dry-docking, new-build, re-fit and on-the-run emergency repair work.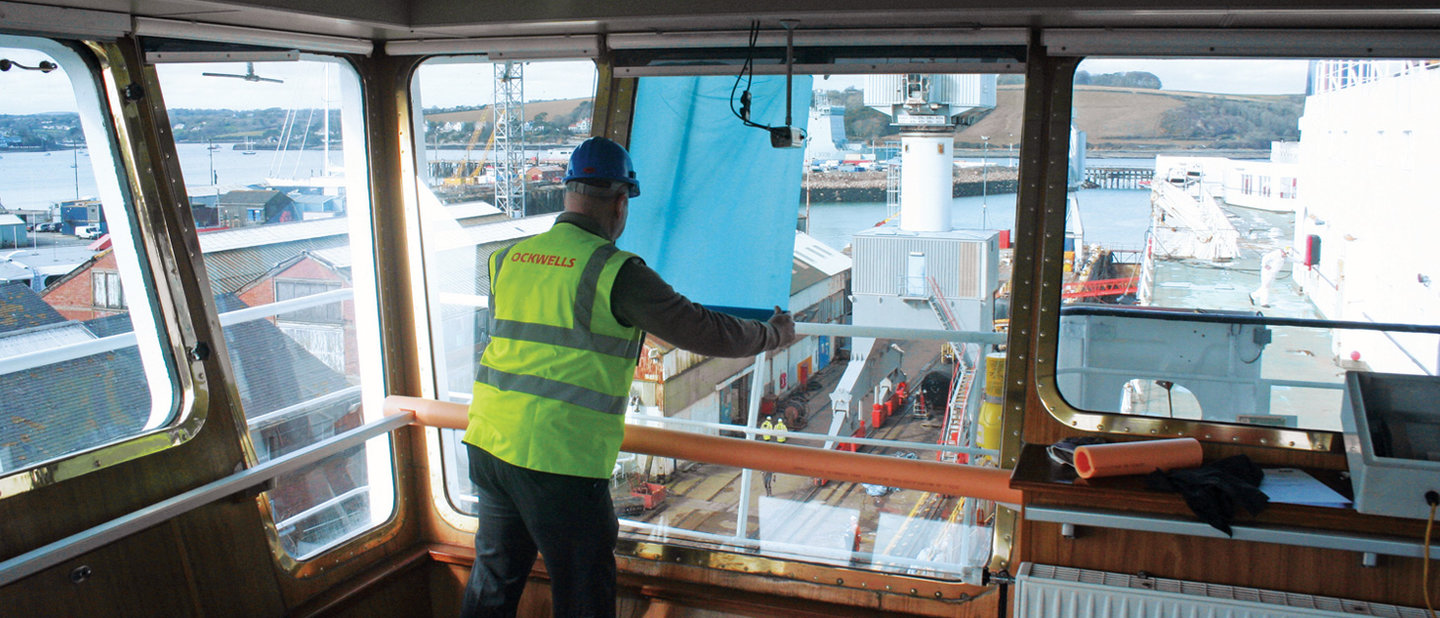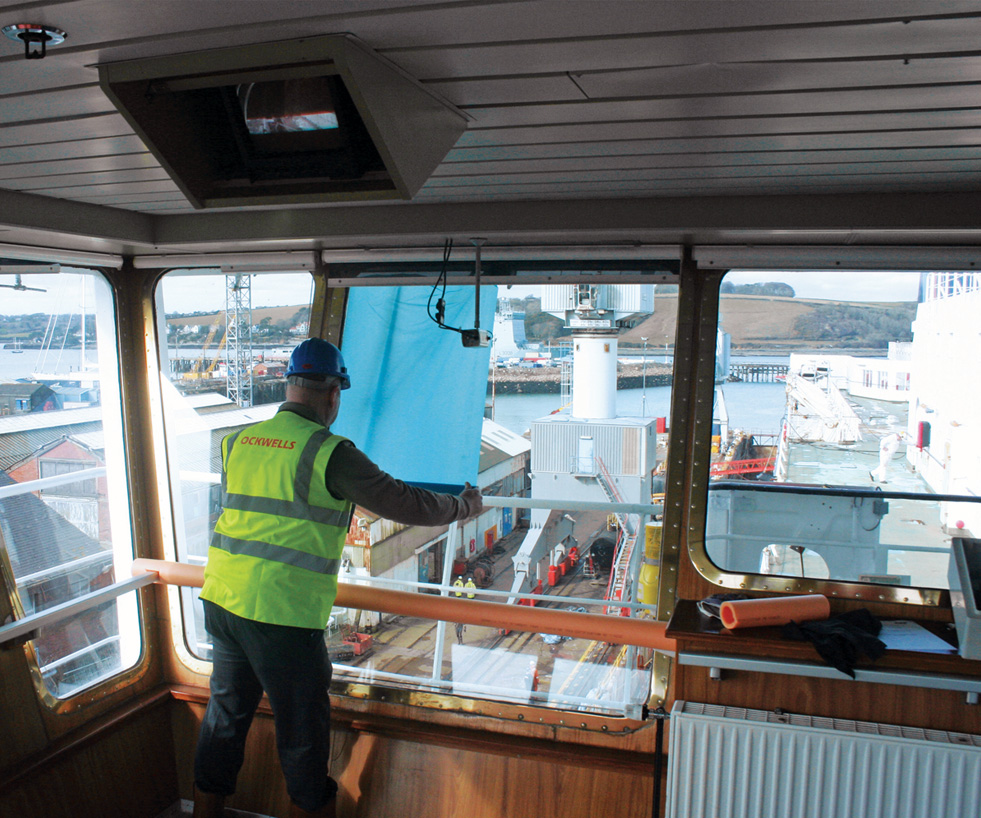 Damages to high specification components and materials during installation work can be extremely costly. Repair or replacement can incur additional time and significant additional costs to a project, resulting in contract delays and unhappy clients.
The use of specialist temporary protection materials on interior and exterior finishes such as decking, carpeted and hard floor areas, walls, doors and handles, furniture and fittings, can help to minimise costs and delays – using the appropriate protection materials during a project is therefore a good way of ensuring the smooth delivery of your contract, and keeping your clients happy.
Our specialist knowledge of temporary protection materials means that you can rely on Ockwells expertise to help you specify and procure the right solutions for your project, in addition you have the added security of knowing that we are part of a UK FTSE 250 company – SIG plc.
Ockwells have branches conveniently located in Scotland, and the North and South of England. All branches carry an extensive range of temporary protection products, with experienced personnel on hand to offer technical assistance and advice where required. If necessary our service can also include site visits.
Our product range is continually being reviewed and expanded in order to meet the changing requirements of the marine industry, with our core product offer covering:
Floor and deck protection
Glass protection
Door protection
Internal protection
Dust and dirt protection
Stair protection
Adhesive tapes
External protection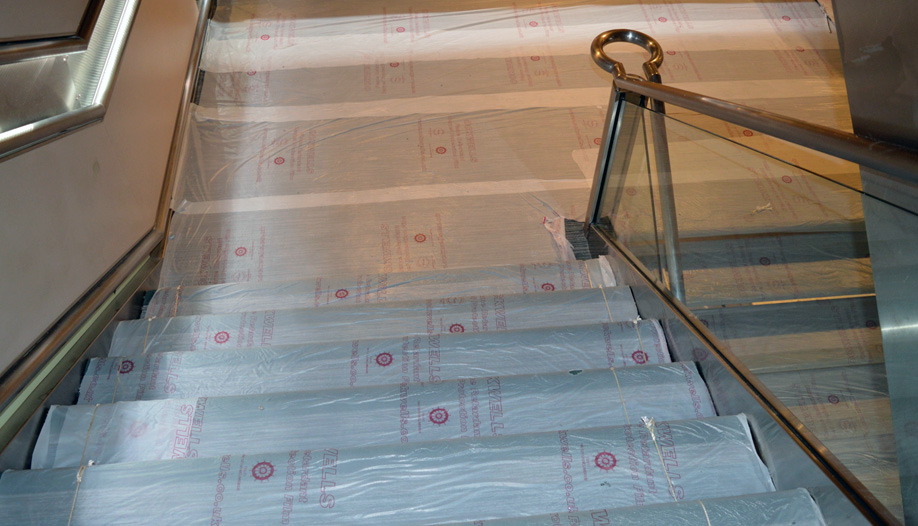 Flame Retardant Carpet Protection Film protects carpets on floors, steps and stairs and is certified to the Marine Equipment Directive (Wheelmark).
Many of our products are certified to the EU Marine Equipment Directive (Wheelmark), Exova WarringtonFire TS63 / TS64 and BRE Global Ltd standards LPS 1207 / LPS 1215.
In addition products certified under MarED are also recognised under the equivalent US Coast Guard accreditation, as set out in the 2004 Mutual Recognition Agreement.
Our rapid UK nationwide delivery service uses a dedicated transport fleet to ensure timely deliveries, usually within 48 hours. In addition we also service international customers, providing technical advice, product support and worldwide delivery.
For the latest product updates and information please visit our websites: www.ockwellsmarine.com and www.ockwells.co.uk
Flame retardant products should be used on all maritime building or renovation projects to comply with your insurance policy. Failure to use certified products or non-compliance with the guidelines set out by the EU Marine Equipment Directive 1/3.18a (or equivalent US Coast Guard accreditation) could invalidate your insurance. If in any doubt it is important to check with your insurance company or fleet operator.
Ockwells have made significant investments in Wheelmarked, Warrington Certifire (TS63) and BRE (LPS 1207) accreditations on our flame retardant products in order to give you peace of mind when specifying and using our products.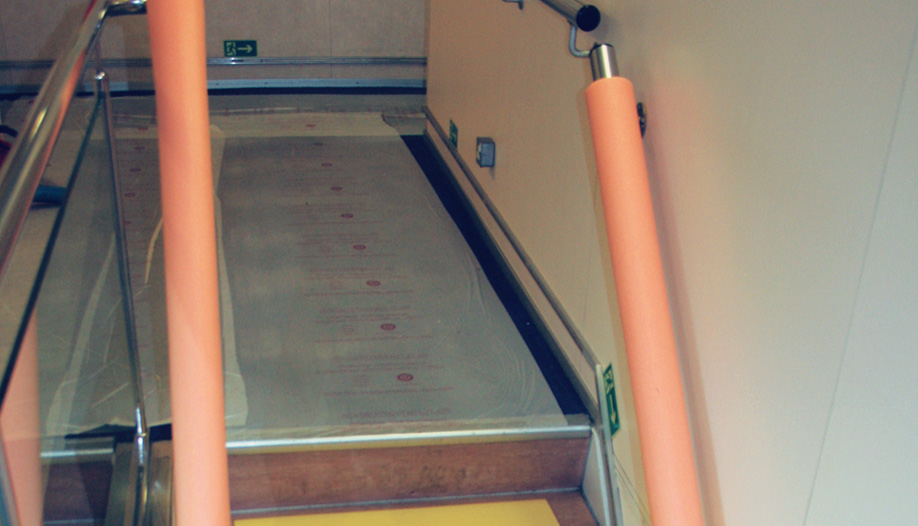 Foam handrail protection and PVC stairtread protectors are easily applied and prevent damage to high specification finishes whilst work in surrounding areas is carried out.
Exova WarringtonFire and BRE Global Ltd have the backing of The Association of British Insurers and the Chief Fire Officer's Association known as the "Joint Code of Practice". Exova also have an approved EU Marine Equipment Directive (Wheelmark) scheme, with which a number of our products are certified.
It is important to be aware that failure to comply with the "Joint Code of Practice" or Wheelmark Directive could invalidate your insurance cover.
The use of non-Certifire or LPCB products may also invalidate Insurance Policies for construction sites, by using Ockwells certificated products both the installer and end client will have the confidence and peace of mind that they are using the right products with the appropriate certifications.
Should you require any further information or assistance regarding certification of products please contact us.
For expert advice on Marine Protection Materials, contact Nigel Chubb on +44 1635 876336 or +44 7557 498847, alternatively via email at sales@ockwellsmarine.com