Coronavirus (Covid-19) Executive Briefing
Understanding the economic impact of the Covid-19 pandemic and the implications for the travel and tourism sector
- ECONOMIC IMPACT -
The Institute for Employment Studies believes eight people are claiming unemployment benefits for every UK vacancy. (July 28)
In June, unemployment in the EU27 and Euro Area rose to 7.1% and 7.8% respectively, compared to 6.6% and 7.5% in June 2019. (3 August)
A recent GlobalData survey found that 29% of respondents would now work remotely full time. (2 August)
Many economists have cut their GDP forecasts 2020 consensus forecast for world GDP growth is -3.9%.
Impact of Covid-19 on asset prices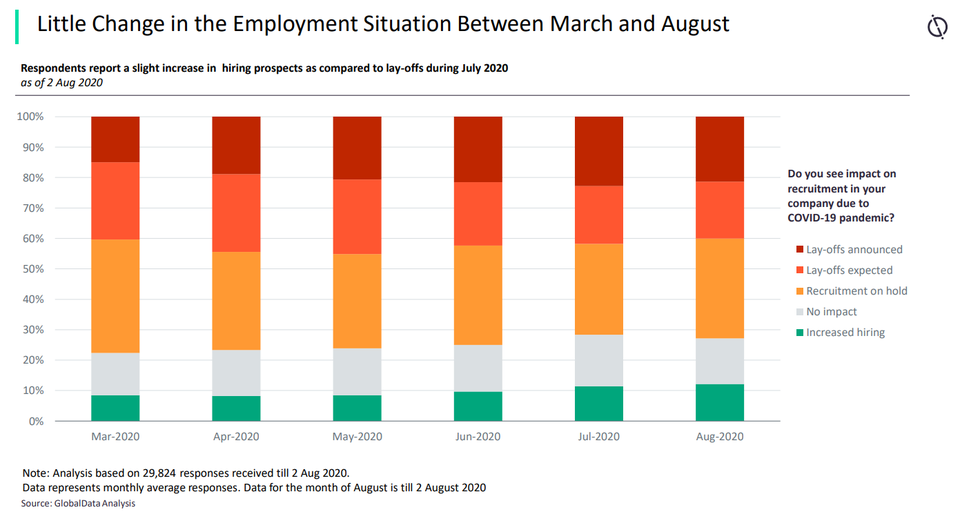 - SECTOR IMPACT: TRAVEL AND TOURISM -
Falling traveller numbers
GlobalData forecasts that international arrivals into the 62 largest tourism markets globally will fall by 34.5% in 2020. Uncertainty is increasing as parts of the US see a renewed surge in cases, local lockdowns are introduced in the UK, and the likes of India and Brazil continue to struggle to slow the spread of the virus.
Royal Caribbean's results show just how hard hit the cruise industry has been. Compared to Q1 2019, revenues fell 16.7% to $2.03bn. The company's operating loss was $1.3bn, compared to a profit of $1.3bn in 2019. Q2 will likely be far worse due to the suspension of sailings.
GlobalData forecasts that inbound expenditure globally will fall by 37.9% in 2020. Domestic tourist expenditure has a projected decline of 27.3%.
Travel industry developments
The travel and tourism industry is hoping for a marked improvement in the second half of the year and there are some encouraging signs. The UK has established a series of air bridges with other European nations, making short trips viable. Air bridge talks in other parts of the world, most notably between New Zealand and Australia, are at an advanced stage too.
Airlines are now increasing their flight schedules, both domestically and internationally to create demand during the busy summer months. However, the number of flights operated remains well below pre-Covid levels and many airlines are warning of significant job cuts, with United saying that 36 000 employees could be furloughed from 1 October because of the slump in passenger demand.
The recent surge in new cases in some US states could see a reintroduction of travel bans and New York state has now imposed quarantine requirements on visitors entering from 19 states. Southwest and Delta are operating with reduced capacity on board to implement social distancing and Royal Caribbean has extended suspensions of sailings for three of its brands, showing the struggle that lies ahead.
Extension of the US's travel cruise ban
The US Centers for Disease Control and Prevention (CDC) has extended its 'no sail order' for cruise ships until 30 September. However, the US cruise industry has voluntarily extended its ban to 31 October. Cruise Lines International Association has said it will evaluate the situation and announce on or before 30 September whether it will extend the ban again.