After months of decline, GDP estimates for many countries have turned positive: the consensus forecast for world GDP growth in 2021 is 6.1%

Polls show that technology will change job prospects over the next three years, with AI expected to bring a change to job prospects
The World Bank has downgraded the economic growth forecast for East Asia and the Pacific (excluding China) to 4% in 2021
The European Commission has revised the economic growth rate of the EU upward to 4.8% in 2021
- SECTOR IMPACT: Travel and tourism -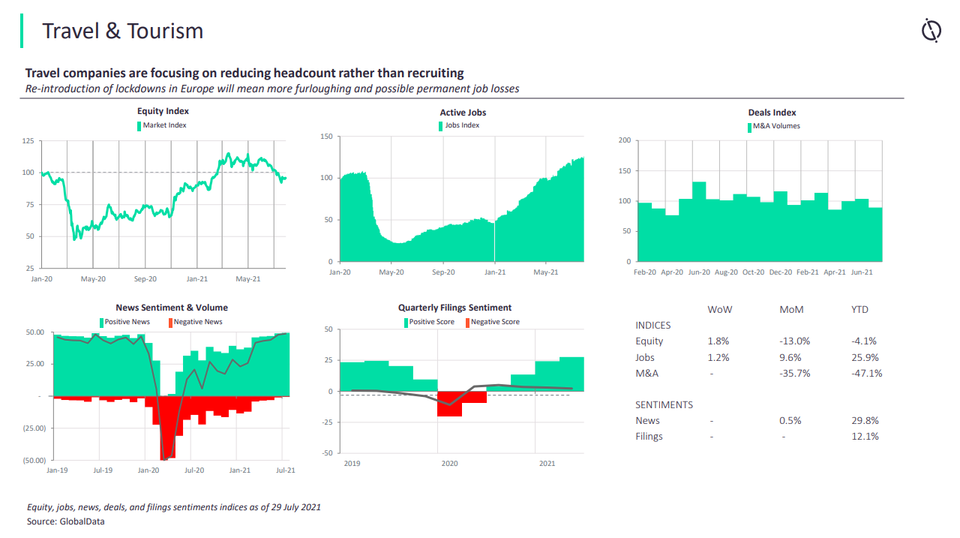 International travel impact
IAG, the owner of British Airways, reported a record £6.3bn ($8.8bn) loss in 2020 due to Covid-19.
Italy lost out on an astonishing £105bn (€121bn) in travel and tourism due to Covid-19 restrictions.
The focus continues to be on survival. Uncertain travel restrictions means more government relief may be needed.
Travel bubbles and travel corridors branch open for more countries. Covid-19 tests and vaccination requirements are part of the new norm.
Key travel and tourism market developments