MSC Seaside cruises into the American market
On 29 November 2017, MSC Seaside sailed for the first time from Fincantieri's shipyard in Monfalcone, Italy, to Trieste. Frances Marcellin was on board, ahead of its 22-night maiden voyage to Miami, to find out more about Seaside's unique design, the tech and how it fits into the company's vision for expansion.
he ship that follows the sun - the official description of MSC Seaside - is a nod to its unique design and the Caribbean itineraries that this 20-deck, 323-metre-long ship has been created for. It is currently sailing seven- and 14-night cruises from PortMiami to destinations such as Jamaica, Cayman Islands, Mexico and the Bahamas.
MSC Seaside is pitched as the new flagship vessel of MSC Cruises' fleet and the first of a new prototype that is designed to "bring passengers closer to the sea". It is a design that the company believes can optimise its revenue and position in the American marketplace.
"It is a ship that revolutionises industry standards," says MSC Cruises' executive chairman Pierfrancesco Vago, "with an audacious and innovative design that brings guests and sea closer."
MSC Seaside is designed to bring passengers closer to the sea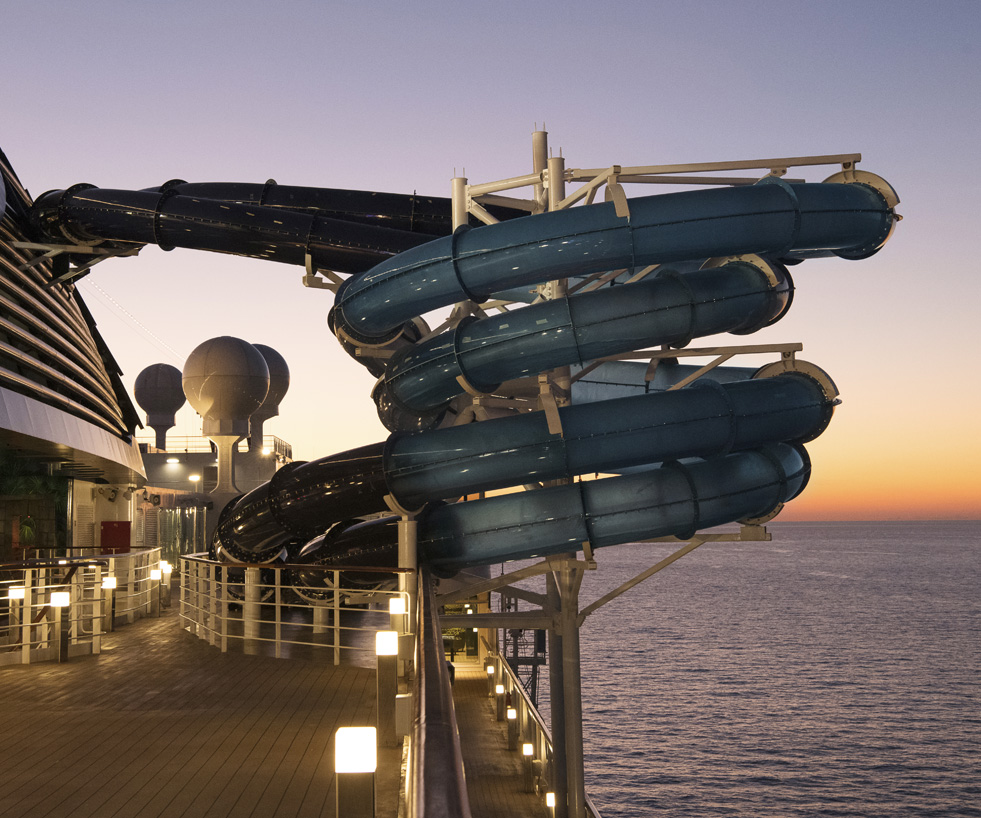 Samsung-designed smart bracelets connect to the MSC for Me system. Image courtesy of MSC Cruises
An unparalleled expansion plan for the cruise industry
MSC Cruises has invested heavily in this prototype. During MSC Seaside's delivery ceremony in November 2017, the company announced that two Seaside Evo ships would be delivered in 2021 and 2023 with an additional investment of €1.8bn.
These will be larger versions of the same design, carrying up to 5,646 passengers, as opposed to Seaside's 5,179, and be longer at 339m. This makes a total of 10 new ships the company plans to deliver between now and 2026, at an overall cost of €10.5bn, making it the highest number of ships on order worldwide and an unprecedented expansion strategy.
"98% of people don't go on a cruise and only 2% have chosen this different way of taking holidays, so the potential is huge."
To put this investment into context, Cruise Lines International Association (CLIA) reports that the entire industry is committing more than $50bn to deliver 70-plus new ships over the next decade. MSC Cruises' investment alone is over one-fifth of the entire industry's financial commitment.
"It goes without saying that we're the number one cruise line in Europe," says Antonio Paradiso, MSC's managing director for the UK and Ireland and executive director of Australia and Scandinavia. "We're really strong in the Mediterranean and now our main priority is to focus on the UK and the US."
The UN's World Tourism Organisation confirmed that international tourism grew by 7% in 2017 to reach a total of 1.3 billion – more than the predicted 4-5%. In the cruise industry, CLIA notes that the UK saw a record 1.9 million tourists taking cruises in 2016, which outpaced European cruise market growth. While 25.8 million tourists took cruises overall, by the far the biggest market is the US at 11.52 million.
"MSC Seaside will spearhead our campaign to expand our presence in North America," says Gianni Onorato, CEO of MSC Cruises. "These numbers bring up the point that 98% of people don't go on a cruise and only 2% have chosen this different way of taking holidays, so the potential is huge."
Onorato says the first thing the company did was commit to a long-term plan. "We know that today there are only three yards able to build [cruise ships] in the world and each year they can build a couple of ships," he says, confirming that to deliver on the strategy they had to take "all the slots available".
Cabin onboard the MSC Seaside
A new design for the American market
In terms of MSC Seaside's new design, the Miami-style cabins at the aft, which resemble beach-side condos, are arguably the most eye-catching external feature. Designed to appeal to the American market, they tower above a pool deck (there are four pools on board) and feature glass elevators offering panoramic views of the ocean.

The floor-to-ceiling windows that surround the four-deck-high atrium – the heart of the ship, which doubles up as a multi-media stage – flood the bar and social areas with light, while providing constant views of the ocean.
"I believe this ship is changing the history of the cruise industry."
Outside, the extended 4.5m-wide boardwalk on deck 8 offers bars and restaurants so that passengers have different al fresco wining and dining options and there is space to meander along the waterfront deck. It's designed to evoke an ambiance similar to a summer restaurant terrace in a European resort.
Almost one third of the public areas (43,500m2 in total) on board are outside space (13,100 m2). This means MSC Seaside has the highest ratio of outdoor spaces on any of MSC Cruises' ships. The additional space created for more public areas is partly due to there being two passenger stairwells rather than three, which is more common.
"I believe this ship is changing the history of the cruise industry, the design itself is innovative and we like to consider ourselves as pioneers promoting a change," says Paradiso. "We are the new kids on the block, so we want to position ourselves in a different way. Instead of just being a follower we want to be a leader."
The atrium at the heart of MSC Seaside is four decks high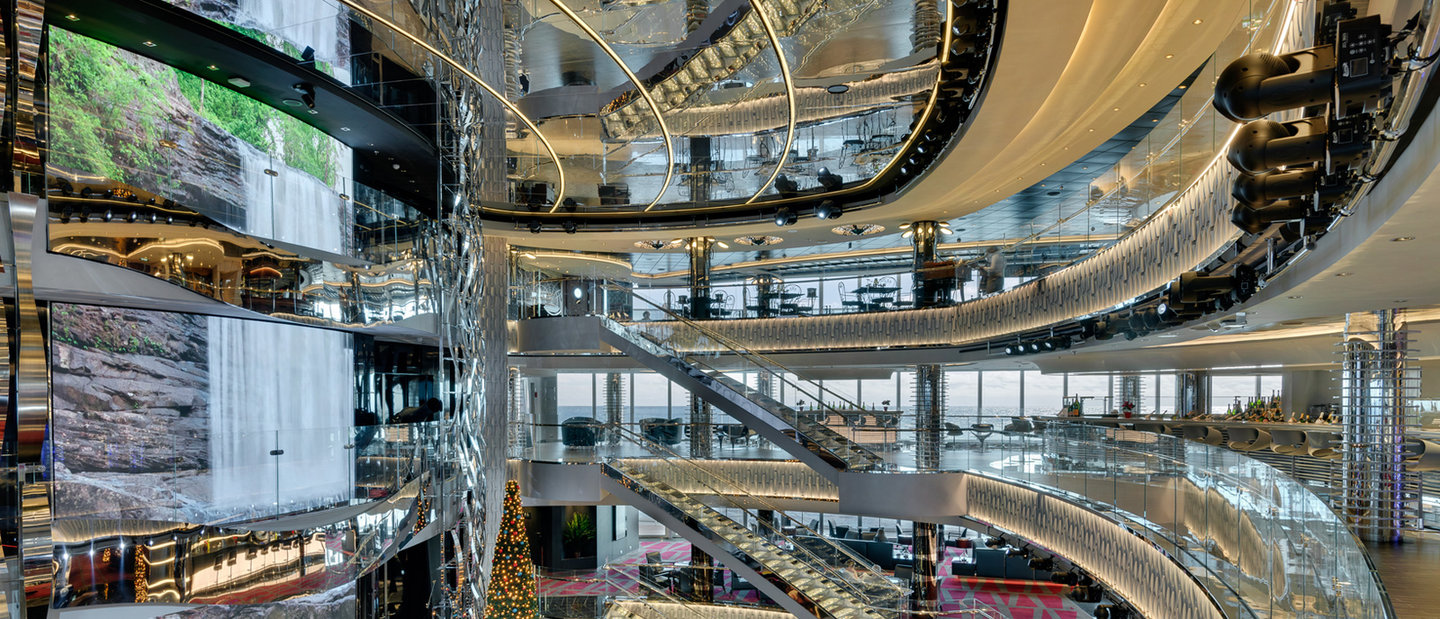 MSC for Me: using technology to make life better
Passengers can stay connected throughout the cruise by signing up to a range of different packages, from light social media use through to video streaming. High-speed internet connectivity is made possible through MSC Cruises' partnership with Marlink.
Through the use of Marlink's global Sealink VSAT network high speeds of 580 Mbps were reached at the launch ceremony in Monfalcone. The success of the company's network of 25 satellites and 32 overlapping beams led Tore Morten Olsen, president for maritime at Marlink, to comment that the "cruise industry will soon expect throughput in gigabits and not megabits".
Like on MSC Meraviglia, another new prototype which launched to serve the Mediterranean market in June 2017, MSC Cruises' multi-platform channel "MSC for Me" is designed to provide passengers with a connected digital experience on board.
"The tagline for MSC for me is 'technology at the service of hospitality'."
Overall the MSC Seaside has 665 internet access points, 158 informative screens, 3,275 beacons, 133 interactive screens (allowing passengers to discover activities and programmes) and 2,036 cabins with NFC-based door opening systems (which unlock by swiping with an MSC for Me wristband or Cruise Card).
The MSC for Me app works via the ship's intranet network, so it can be used by anyone anywhere on the ship. Features include a digital way finder (that works like Google Maps, showing the route to your destination from where you are located with five-metre accuracy), your daily programme and a reservation tool (restaurant, theatre, and so on), so passengers can book and cancel bookings from anywhere on the ship.
There is also a geo-location service which means families can check where their children are from their smartphone. It uses Bluetooth Low Energy (BLE) to communicate with around 600 active beacon sensors around the ship.
The development and deployment of this system has thrown up considerable challenges to the technical teams, but the service is unique to MSC Cruises and the peace of mind offered to parents is significant as it attracts millennials (born 1977-1994) as well as Generation X (born 1966-1976).
"The tagline for MSC for me is 'technology at the service of hospitality'," says Onorato. "I think that technology can help make a better life for our customers".
The MSC for Me app is designed to provide passengers with a connected digital experience on board.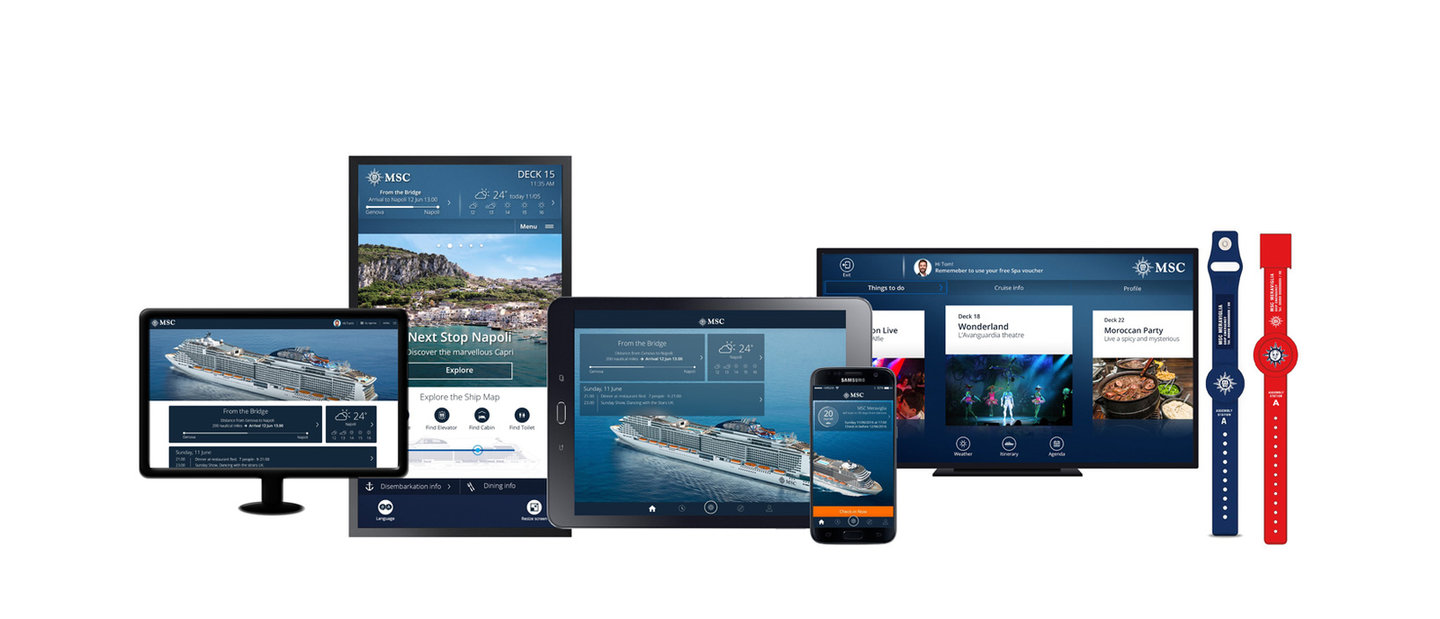 A "humble approach" to unprecedented expansion
CLIA has predicted that more millennials than ever before will be taking cruises in the future and almost half of non-cruisers surveyed are interested in taking an ocean cruise.
Paradiso says that the average passenger age on MSC Cruise's ships is 45, lower than the industry average of 55. The company's technology and high-tech entertainment options, such as interactive slide-boarding in the aqua park, the 5D cinema and real Formula One car simulator is also designed to attract a younger audience.
"MSC Seaside will offer a truly remarkable experience for families, sun worshippers and adventurers."
MSC Cruises should be used to rapid growth by now, since the company has grown in passenger capacity by 800% since 2004. Yet Onorato says the company's plan is not to become the market leader and describes the unprecedented expansion plan as a "humble approach".
"There are 30 million Americans going on a cruise and 1 million to 1.5 million will represent our average market share for MSC around the world, which is 10%, and to get there we need four to five ships fully dedicated to this market," he says, adding that MSC Seaside will "offer a truly remarkable experience for families, sun worshippers and adventurers".
The MSC Seaside features a wide range of attractions with the hope of attracting a younger audience.
All images courtesy of MSC Cruises